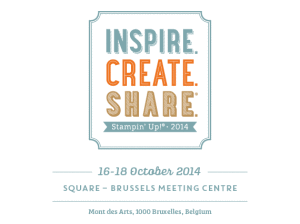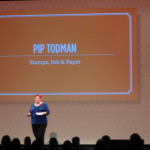 Well everyone, I'm back! I had a blast and actually managed to present & not fall over on stage or mess up my words too much! Here's a fuzzy photo as proof! A huge shout out to ALL the wonderful presenters at Convention this year they were all brilliant. If you don't know what I'm going on about … sit back and let me tell you about the Stampin Up Convention party!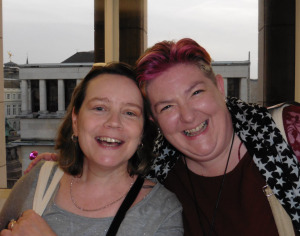 Every year demonstrators from all 5 European countries where Stampin' Up! operate come together for an annual convention. This year, and for the next 2 years it's in Brussels!
We do a lot of swapping (sharing ideas with each other – we all make x number of the same card & then we swap one of ours with someone elses – so I made 40 all the same & got 40 all different back!). These give us great ideas and just some fun networking to meet demonstrators from all over Europe – it's fun networking with the wider Stampin' Stars team too – here's Kim & I – I haven't seen her since May!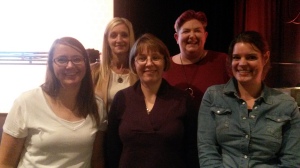 As I was presenting, I had to arrive a day early so I could have a sound check & rehearse (so Madonna darling!!!). It was a lot of fun to see "behind the scenes" if only of a very small part of the Convention story. Here is a snappy of me and my fellow presenters for the Nutshell class (Katie, Kerry, Joanne, me & Miriam).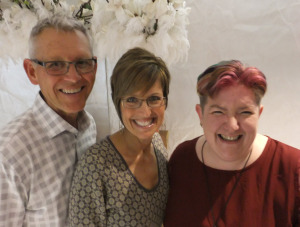 There is a special dinner on the Thursday night for demonstrators who have achieved Silver 2 status – this year I achieved this and I have to say we had a lovely evening at the top of the Square Conference Centre where we had some lovely (if oddly delivered) food, got some lovely gifts from Stampin' Up! and had some fun with the Stampin' Up! management. Shelli our CEO and Co-founder and her husband (this is me with them!) sat at our table, which was amazing – they are both so normal and just lovely people. She was very interested in my hair colours (and of course how they matched the Stampin' Up! colours) and in my fellow demonstrator Kim's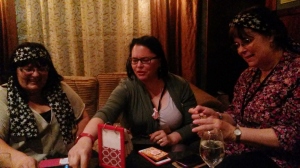 WOW swap and team gift. We chatted about our business and how we love to share our crafting with our customers and family. Then we had a huge team gathering afterwards at the hotel where we shared team gifts and generally chatted about the trips over & the swapping people had already done!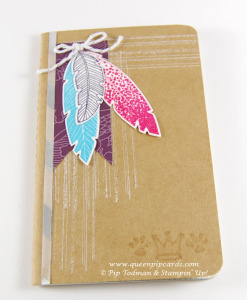 Here is the main element of my team gift this year, one of the Kraft Grid Journals stamped with the Royal Stampers logo and each team member had different coloured feathers to match their favourites or what I thought they'd like. This is mine and if you can see in this one the feathers are embossed with Iridescent Ice too.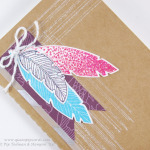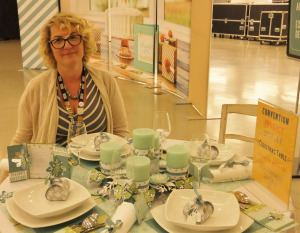 During the day Friday and Saturday there are lots of presentations and fun crafting idea workshops and a hands on area, new products & information shares, and of course the Design Challenge areas where some AMAZING demonstrators showed off their creations. I was lucky enough to bump into Lisa Cornwall (winner of the UK) and she talked me through how she made her amazing Caravan (yes a Caravan, with internal decorations including a bed, cooker, curtains and pictures – plus the cooker & bed were mini books!!!) and her Christmas beautiful table decoration layout. She was lovely and so thrilled to have won, and she has an amazing way of thinking about how to use Stampin' Up! products to make things you'd never think of – like wheels!!!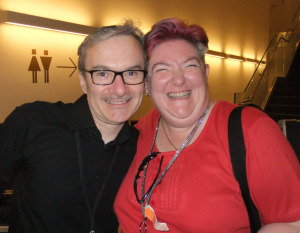 It's always great to meet up with the Demo Support team – here's my Convention Photo with Chris from Germany – he puts up with a lot and always has a happy smile for us demos! I'm not sure we meant to get that sign behind our heads, and it's the wrong way around too – but hey ho, a good photo nonetheless! See you next year Chris 🙂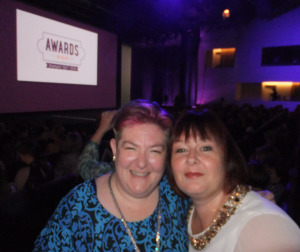 Then Friday night is Awards night & after party! Here I am with my uber Upline Natalie O'Shea – Natalie was in the top 5 for Recruiting as well as earning the Incentive Trip this year … she's a real inspiration to me as she also has a busy day job and a family to look after!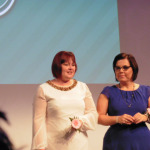 Here she is again with another inspiration, Julie K – a Strictly fan – so we got on well 🙂
The after awards party was awesome as always – a live band and a huge selection of chocolates and desserts for us all – plus some dress up items & photo area where we could all have a bit of a giggle. I have to say the Royal Stampers rocked the night in style!!! (Thankfully there is no photo evidence of the dancing though!)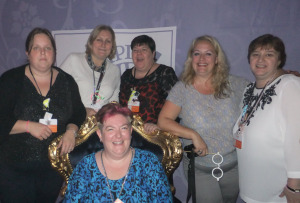 Then, after we've been thoroughly spoilt with free giveaways and hugs and amazing inspiration it's all over for another year … sigh … but in the meantime we have a local event in December and Regionals next May to look forward to. I'm sure the Royal Stampers will turn out again in numbers! Maybe this time I can get them all in the same place at the same time for a full photo!
So, I'll leave you with that run down of what we get up to at Convention, if you'd like to join us next year in Brussels for this amazing adventure, then click here to find out all about being a member of the Royal Stampers; but I couldn't leave without at least one card creation … so this is the card from my party held on Friday (yes the week I got back from Convention!), we had a great time and I met some lovely new crafters!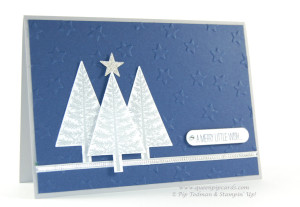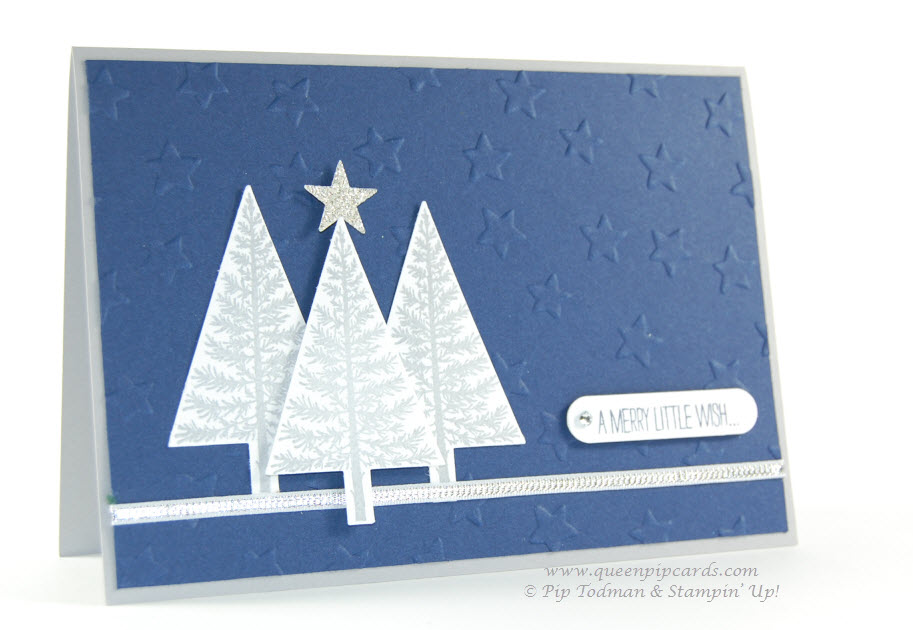 So, have a great week and I'll be back with more cards next week, until then, happy stamping, and thanks for stopping by, love Pip xx