Hello everyone, a very short posting from me this week as I'm pre-scheduling this as I'll be away in Brussels having attended the Stampin' Up! Annual Convention and then I'm staying on to spend a few days with family. My hubby remains at home keeping everything in order and taking in my pre-order parcels!
Why does he need to take in some parcels? Well, tomorrow the 20th October we launch our Seasonal Supplement to our Autumn / Winter Catalogue, with some extra additions you're just going to totally want to have, and I pre-ordered mine before I left for Convention! (One of the bonus' of being a demo is I get to see everything first!)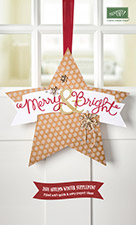 My favorite are the star boxes, I know you've all probably seen the You Tube video of how to make some by hand out of the Star Framelits and inspiration in the Autumn/Winter catalogue, but this new Many Merry Stars Simply Created Kit gives you 26 boxes in various sizes with all the hard work done for you, even sticking the sticky strip is done! All you have to do is put them together – they can be hung on a door or a tree – you can close up gifts inside them ready to be opened on Christmas Day – they are gorgeous and went on my Must Have List when I first saw them!
They go from from 5.1 cm to 38.1 cm in diameter which is huge! You can see them all TOMORROW at the Stampin' Up! European Pintrest page – click here. There is also a new coordinating Many Merry Stars Stamp Set – so you can use the pre-printed side  or stamp on the kraft side to make them unique to you!
There is also a new Project Life special page protector and Card Pack set.  The Supplement provides a different kind of Project Life than you may have seen before. Instead of making a scrapbook after Christmas, you can use these products to capture the month of December as you live it! You can take pictures each day and use Project Life cards and journaling pens to document it. By the end of the month, you can have a complete book for the month of December!
The Twelve Days of Christmas is traditionally considered to be the festive Christmas season and—depending on where you live—might be commemorated on the twelve days leading up to Christmas, or on the twelve days after. No matter how you want to use it, the 12 Days of Christmas Stamp Set combined with Project Life cards and pocket pages are perfect for making a memory book commemorating the Christmas season. You can also use the set for drop-off gifts for the 12 days leading up to Christmas, either for your neighbours, teachers or family you're visiting on the run-up to Christmas Day.
Have a look at the Catalogue here.
Stampin' Up! have never done this before, so it's an exciting time for us to have a look forward to Christmas as October starts to wind down and get excited about the coming season. I will be sending out the supplement to anyone who has ordered from me in the last 6 months, if you'd like one, just let me know via my Contact Me Form on my About Me page.
Some things you need to know …. you can order online from My Shop tomorrow 20th October and all the items are on a "while stocks last" basis only. Because of the short timeframe, Stampin' Up! won't be able to reorder anything that runs out, so if you want it – buy it because I think these items are going to fly off the shelves.
So until next week, happy shopping and I'll be back soon with lots of information about Convention and all the fun we got up to! Don't forget our Joining promotion ends on October 24th, so why not buy from the new Supplement as part of your Starter Kit?
Take care and happy stamping, thanks for popping over, Pip xx