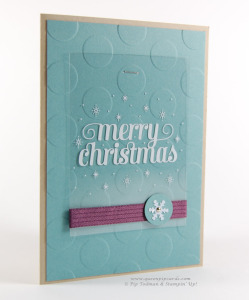 Hi everyone, well it's Sunday again – how quickly did that come around? Today I wanted to share with you what we did for our technique class yesterday. It wasn't really a technique like embossing or multi fold cards etc, it was about using the Project Life Accessory Packs from the catalogue in card making. If you're just a card maker, you could well overlook what is in these packs assuming that memory keeping is not for card making. In the same way scrapbookers or memory keepers may not think about using the Accessory Packs except for when they're keeping memories!
So I wanted to show off just the amount of stuff you get in one of these kits – it's huge – not in size, because actually it's all quite diddy, but in quantity. The Accessory Pack we used yesterday is the one from the Autumn / Winter Catalogue on page 35 called the Seasonal Snapshot Project Life Accessory Pack, it's £8.95 and contains all of this!
4 sheets of sticky letters – 4 full sets of alphabets, two Real Red & two Old Olive
3 printed acetate specialty cards (Merry Christmas , as shown above), Hardwood & Scare up the Fun)
7 cardstock sticker sheets (this includes the 4 letter sheets – so you get another 3, one focused on autumn / Thanksgiving, one on Christmas and one on Halloween)
60 sequins (including some of the Snowflakes from the Frosted Sequin pack)
4 epoxy badges and epoxy stickers – these are large domed stickers – they're great – see the bats one below
A roll of washi tape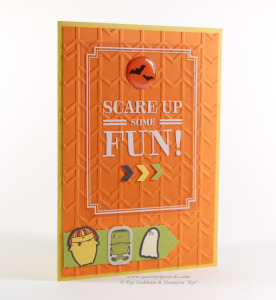 PHEW! That's a lot of accessories huh? Here is the Halloween card that shows off that great epoxy badge.
All, in all I made 5 cards, a box and tag, and a notebook cover from this kit and still had a huge amount of stuff left over. I didn't use any of the Old Olive letters, or any of the other epoxy stickers and only a couple of the sequins and one strip of washi tape – so you can imagine how much I had left!
All of the items are smaller in size, so they're good for tags, small cards and boxes or notebooks, this is because they are designed to work with the Project Life by Stampin' Up! page protectors and cards etc. I still found it easy to make at least 5 normal A6 cards from the main items in the pack, and have enough for lots more. With some Embossing Folder backgrounds, and some plain cardstock it was easy to coordinate and bring the smaller images to life.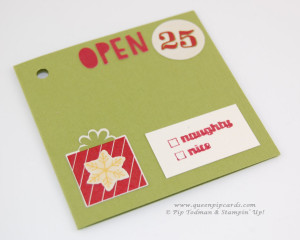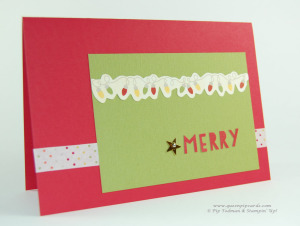 What I really liked was that most of the ladies at class yesterday went "off piste" and did their own thing, which is exactly what these packs are best for – doing it YOUR way!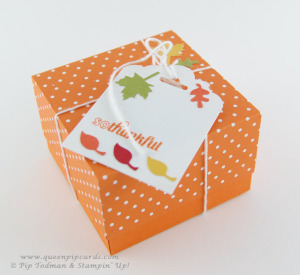 The kit coordinates perfectly with the Project Life Holiday Cheer stampset which gives you 19 stamps, again diddy in size, to use with your memory keeping or for tags (like the one above) or for small 3″ x 3″ cards. The tag on the box is 2″ wide, so that gives you an idea of the size of the sentiment stamp and some of the smaller stickers.
Both the Accessory Pack and the stampset coordinate with the Seasonal Snapshot Project Life Card Collection, which is the best thing about Stampin' Up! – all of the coordination is done for you. The Colour combinations in this officially are Basic Black, Hello Honey, Old Olive, Real Red, Sahara Sand, Tangerine Tango; but I actually used Tangelo Twist for my card and box and it worked fine – but if you had the full card pack, you might want to stick with the right colours.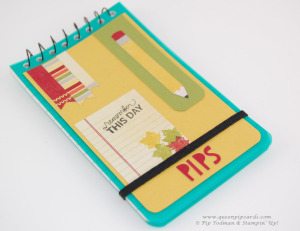 Here's the notebook cover I made, and below is the other Christmas card in Lost Lagoon, which doesn't match any of the colours in the kit but has a great Christmas feel if you want to change it up from just Real Red and Old Olive. The Real Red snowflake banner shows up beautifully don't you think?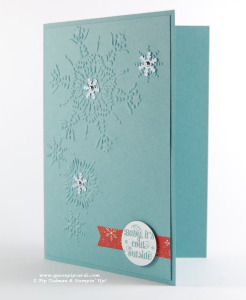 If you'd like to purchase this Accessory Pack or anything else I've mentioned, just click on the links below.
In the meantime, have another scout through the Annual and Autumn / Winter catalogues and see what Accessory Packs you might like to have a play with! I'll be scheduling my post for next week as I'll be in Brussels following our annual Stampin' Up! convention – but keep an eye out for updates from Convention Friday & Saturday via my Facebook page, www.facebook.com/QueenPipCards and until next week have a great time and happy stamping, thanks for stopping by, Pip xx