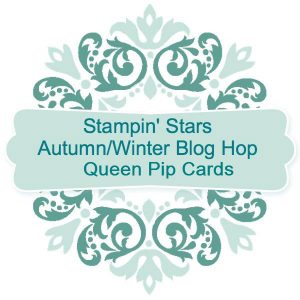 Hello my lovely stampers and welcome to the Stampin Stars Autumn Catalogue launch Blog Hop!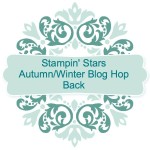 The new Autumn/Winter Catalogue is packed full of goodies and to showcase it properly our affiliated teams (The Stampin' Stars) have organised a blog hop just for your inspiration and pleasure. So here's the scoop, we've each done a project to share with you and you can hop back and forth between us all – if you've arrived here from Tracy then welcome (and doesn't she make the most amazing creations?), if you're starting here then you have some treats in store! You can hop all the way around the blog hop and come back here to where you started, but I'd suggest you grab a cuppa and some biscuits first, because it's a great hop this time around! The images top & bottom will link you back and forth, or you can use the links at the bottom of the page to jump around too. So sit back, feet up and enjoy ….
I decided to focus in on something I very rarely use – the Halloween papers and stamps. I don't really do Halloween and there are very few children in our road, so we don't have to put on the lavish trick or treat pumpkins and baskets that others do … but this year the Motley Monsters Designer Series Paper and the little Project Life Holiday Cheer stamps really caught my eye, because they can be used for non Halloween projects too – and so I thought I'd give them a go.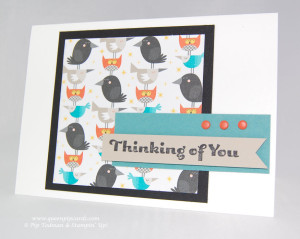 My first card which I CASE'd from Mary Fish shows that this paper isn't just for Halloween at all, anyone who likes birds and cats is going to love this card and I made a matching tag that would go with it for a present. Just look at that extra thick Bakers Twine – ummmm very nice!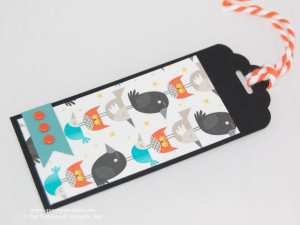 The next two are Halloween based, but these use the new Crumb Cake notelets and are really diddy and cute – and I loved the monsters / witches / bats (we love bats) paper so much that I couldn't bring myself to cover it up, so I went with a slider card instead!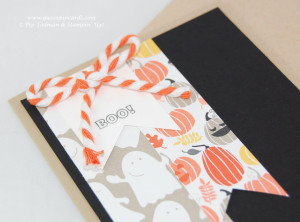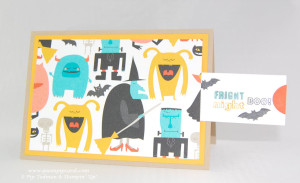 Don't forget to decorate your envelopes too, these gorgeous Holiday Cheer stamps are photopolymer so you can see where you are stamping, they stamp really clear images that are just the right size for the Notelets.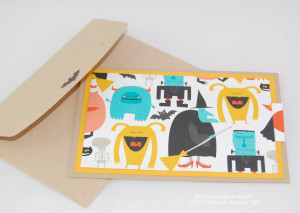 So, I hope you like my projects, something a little different to what I normally do – pushes me outside my comfort zone, which is always a good thing to do occasionally.  Don't worry there will be lots of Christmas focused cards and projects coming out over the coming weeks and I'm sure you'll see lots more in the blog hop today. If you like what you've seen and want to get a copy of the Catalogue please just let me know via my Contact Form on my About Me page and I'll happily post one to you, alternatively you can see it online here and you can also see all the new lovely items in my SHOP; but before you dash off and look around either at the Shop or the other blogs, please remember use my Hostess Code VWPERMEZ (valid until Monday 29th September) on any order under £150 and I'll send you a gift of appreciation for doing so, if you order more than £150 then you'll get your own Hostess Pounds to spend AND remember to hop around the blog posts from the other Stampin' Stars and see all the inspiration they've got for you. If you like these projects, then the images below the blog hop list will take you straight to the items in my SHOP.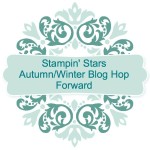 Next up is the lovely Eimear – click here or use the buttons to hop forwards or back. The list below shows everyone taking part, so you can see where you're up to at any point.
Thanks for visiting & hope to see you again soon, happy stamping, love Pip x
Tracy Hart Lawrence – http://clactoncrazycrafters.wordpress.com
Pip Todman – https://www.queenpipcards.com  (You are here!)
Eimear Carvill – http://stampincolour.com/
Emma Goddard – http://coastalcrafter.com/
Angela Cormier – http://craftycarousel.blog.com
Caroline Thomas – http://www.craftwithcaro.com
Kim Fee – http://kimfeecrafter.blogspot.com/
Lynn Clifford – http://heavenlycrafts.com/heavenlystampin/
Cary Buckham – http://2biggirlscrafting.blogspot.co.uk
Cat Herrington – http://wiggle-craft.blogspot.co.uk
Nic Parr – http://thestickyelf.co.uk
Diane Marlow – http://www.craftyducks.co.uk
Christine Widdowson – http://www.stampinup.net/esuite/home/diamondstamping/blog
Di Richardson – http://www.stampinup.net/esuite/home/kingdomcards/blog
Jamie Turney – http://paper-crafting-mad.blogspot.com/
Sara Thornton-Bryar – http://www.stampinup.net/esuite/home/craftylittleminx/blog
Joanne Penny – http://toocraftyjo.blogspot.co.uk
Natalie O'Shea – http://www.natalieoshea.co.uk/blog.html
Louise Sims – http://stampindelight.co.uk/blog
Katie Jones – http://deepbluecrafting.co.uk/blog/
Cayleigh May – http://cayleighscards.com/
Nikki Acton – http://frankieeatsworms.blogspot.co.uk
Sue Bridge – http://www.stampinup.net/esuite/home/suebridge/blog
Cathryn Perkins – http://www.stampinup.net/esuite/home/cathrynscraftcellar/blog
Sarah Mcdermott – http://www.papercraftartistry.blogspot.co.uk/
Fiona Whitten – http://oakfieldcrafts.blogspot.co.uk