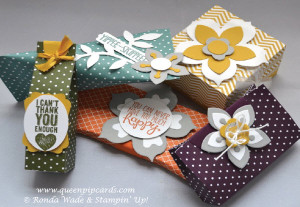 Hi everyone, this weekend I've been creating some of the Christmas items for upcoming training and classes – so sadly I can't share them with you yet … but I can share a new incentive I'm running for the next few months for my Simply Stylish classes.
These cute boxes are filled with items that you can get your hands on for free … want to know how?
Simple, bring a friend I've never met before to class and both you AND your friend get to pick one of the boxes just for coming.
What's inside? Anything from some buttons and ribbon packs, or a stamp set, or some Rhinestones, or a complete Hip, Hip, Hooray card kit. I have a pile of them waiting to be claimed but it's pot luck as to what you get – but both you and your friend get to pick one just for coming to class.
So grab your phone book and see who might like to join you for a crafty afternoon of fun – you never know who might enjoy it, so don't assume they won't like it – this might be their new best hobby and you're going to be the one who introduces them to it!
The Stampin' Up! Statement of the Heart is this ….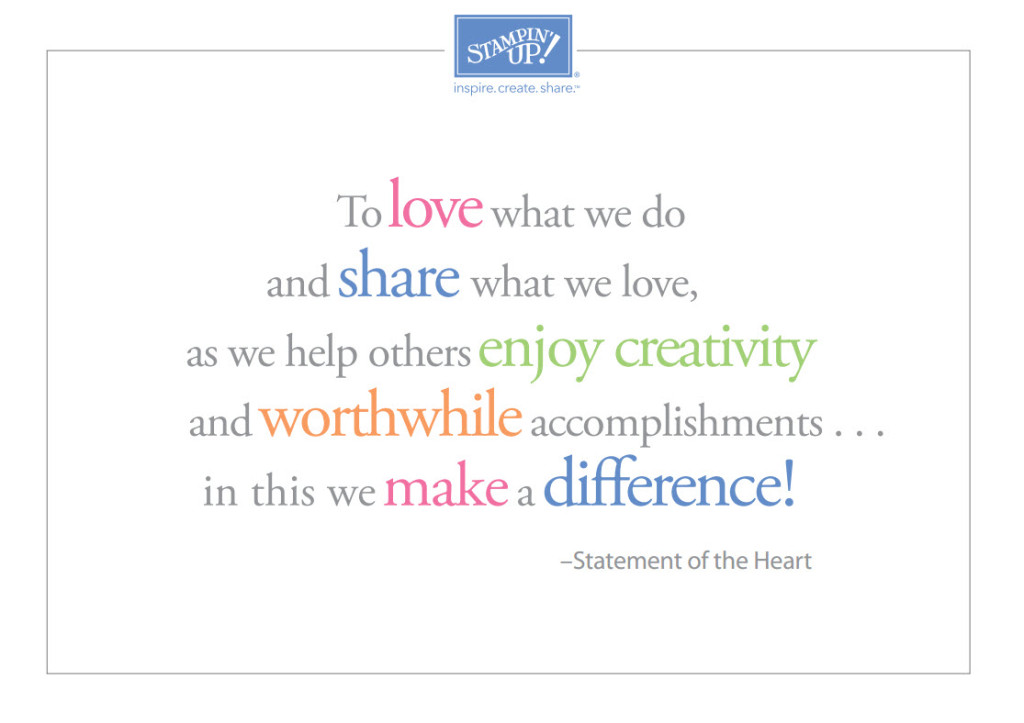 …. and I'd like to think that this is at the heart of all my classes and I'd love for you to share that with others in your life, maybe someone who needs a lift or someone who just wants an afternoon out with you. There is never any pressure to buy at my classes, as everyone who comes can attest to, but if they like it and want to make it their new hobby, I can of course help them get started with my suggested basics kit which comprises of adhesive, cardstock basics etc.
My only condition is that your friend cannot be another Stampin' Up! independent demonstrator – demonstrators who currently come to my class can, of course, participate in the Bring a Friend incentive. I think that's fair to all 🙂
My Simply Stylish classes are only £10 per person, or FREE with a minimum order on the day, you'll make between 4-6 cards or projects depending on the designs. They're normally general, everyday cards that you can use to send to family and friends and I provide multiple sentiment options where possible.
They are relaxed and include refreshments, some laughs and chat – they are suited to every level of crafter from those who want to just have 2 hours to craft without interruptions to those new to card making who want to learn.
So, have a think and ask around, you and your friend could be the first to benefit from my cute little boxes with gifts! This incentive will run until the end of November, so you have 3 opportunities left to take advantage of it.