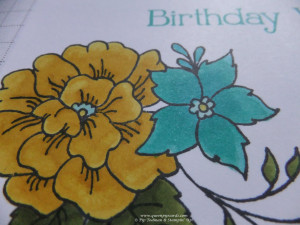 Hello everyone, well I'm not sure if I've recovered from the amazing offer launched on Friday on how to get your hands on a FREE Stampset and Framelits matching set (see Friday's post for more details. Today however I wanted to share the new Stampin' Up! Blendabilities with you and show you just how gorgeous they can look.
They come as a set of alcohol based ink pens that match the Stampin' Up! colours. There are 3 pens in each set the Medium one being the actual Stampin' Up! colour and then a lighter and darker shade of that colour for perfect blending.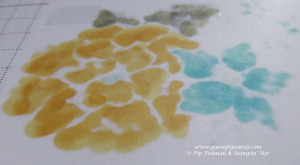 They are square, so they don't roll away, and there is a brush tip and a short tip so you can get into all those corners. The ones I've used here are the Daffodil Delight and the Coastal Cabana sets for the flowers and the Old Olive set for the leaves. This image shows what the back of your card will look like if you've blended properly – you can see how the ink has bled through the Whisper White cardstock – this is normal and should happen, so for this reason I wouldn't blend directly onto a card base – I'd always layer it up with another layer of cardstock underneath, so you can't see it – although it's quite pretty in a weird sort of way!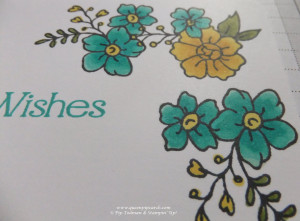 Here are the smaller flowers from this Hostess set called I Like You. It's a lovely set and it's only £9 when you host a party and reach the Hostess Spend amount of £150, which is a real bargain I think. The ink will bleed out slightly, you can see where I've just dotted on the small bits the ink has bled outside the lines – I don't mind this look, but if you want to be sure it stays inside the lines then leave a slight gap around the edge of the image and wait to see how far the inks bleed before you finish your colouring – you can always go back in with the really fine brush tip to get to the edges if you need to.
Here's the finished card, I hope you like it – if you'd like to purchase any of the items shown please click on their links below or go directly to My Shop.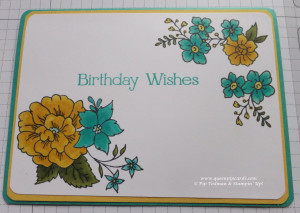 Happy colouring, until next time when I'll be sharing the outcome of my Two Step Stamping technique class.