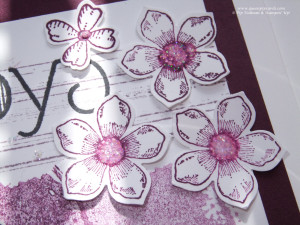 Well hi everyone, wow what a scorcher of a summer we're having here in the south, I'm not a fan of the heat, give me snow any day or rain – I like rain too, I know I'm weird but I think it comes from growing up in Lancashire, rain was normal so I liked it, along with thunderstorms, and some snow (because it was rare). Hot was something we got once in 1976 and I was young enough to spend my days in the paddling pool!
So, imagine me – ice pack firmly stuck on my neck & feet, thinking about …. Christmas! Yes I know you're all shouting at me that it's months away and to be quiet, but crafters tend to start early and this year I'm getting my hands on the new Autumn/Winter catalogue from August 1st, after which I'll be sending them out to anyone who wants one (just contact me via the About Me page). I've had a sneak peek already and it's AMAZING and makes me cooler just looking at it! It will be the focus of my Christmas Special Event 1st November 1.30pm – 6pm in Ash Vale, please check out my Events link and RSVP as soon as possible as spaces are already going fast. It will be £35 for the 4 1/2 hours of crafting fun and you'll receive at least £20 worth of products to take home. I'm also thinking of offering this with a Class to Go Option for those of you who can't actually make it in person – more details to follow once I've worked them out!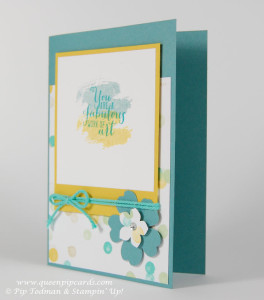 BUT … between then and now we have several more classes to think about. Today we had our July Simply Stylish, where we made some cards using the Work of Art stamp set that featured in my Sneak Peek of the new Annual Catalogue.
I have also made a new card using a mix of Work of Art,  Age Awareness and Gorgeous Grunge (which is surprisingly one of my favourite sets – surprising because I'm not really a grunge person – but this set is brilliant for so many things, I find myself using it a lot). Age Awareness is one of the new Photopolymer sets from the annual catalogue and it has this great typeset of Happy Birthday along with some other cheeky phrases!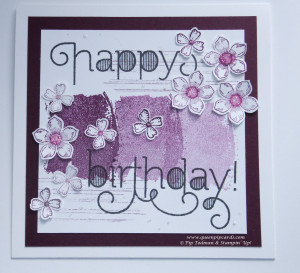 This is the full size BIrthday card and you can see the use of Gorgeous Grunge in the background. I also used it to make an alternative background paper for the Art of Watercolour card above.
I just love Blackberry Bliss (left) and Lost Lagoon (above) out of the new In Colour range, but I also love last years In Colour's too – I can't make up my mind which I like best – so I tend to use both a lot.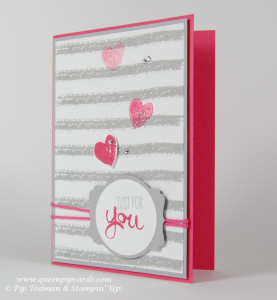 Well today was also the last day to pre-pay for a spot at my my next Technique Class where we'll be tackling Two Step Stamping. What is this? Well it's using 2 stamps to create a single image, and it's really cool. I've added a little teaser of one of the projects so you can see the kind of images you can create – but there are lots more to come in my post after class. If you missed the class this time around, I'm sure I'll be running another one – or you could book yourself a Private Class with me – contact me for more details – use the contact form on my About Me page and put Private Class in the subject.
Until next week, have a great week, enjoy the sun if you can or keep cool if you can't and keep on stamping throughout! Take care, Pip