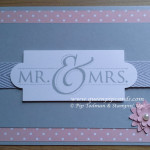 Hello folks, as promised here is a short post with all of the cards that we did today at class. This helps to give you a feel for what this class is all about, as the title says it's about stylish cards that are simple to make. I hold one every month and this is April's offering – I hope you like these, they're easy to replicate and follow along with, so please feel free to use them as inspiration for your own creations. Click on the images to see the full size versions & then hit the back button to return here.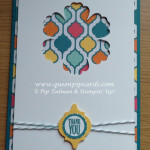 If you'd like to come along to my next Simply Stylish class, then click on Classes above and RSVP to the next one in the calendar (18th May – early next month due to the bank holiday and half term).
It's just £10 per person for 4-6 cards or FREE with a minimum order on the day. I have spaces for up to 12 (13 at a push) people and you get tea / coffee and biscuits too!
It's a very friendly, relaxed group with some regulars and others who come when they can, no pressure to buy although most of the regulars make use of the FREE class offer since they love the Stampin' Up! products!
I hope to see you at one soon, happy stamping until then, Pip xx