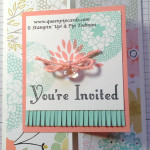 Hello everyone, I'm so sorry this week's post is late, unfortunately I got struck down by a nasty cold & chest infection and was hit hard for the week, hence being a sickly Pip. I'm slowly feeling better, but still have a very husky voice and tickly cough, which I know is going to linger just to be annoying!
However, it's not stopped me working or trying to get my head around all the amazing things that happened at Make It last weekend and all the wonderful people I met and bookings I've got coming up.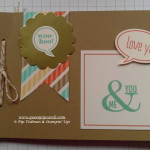 I have class next Saturday which made its debut at Make It which sparked a lot of interest – we will be either making a mini album or a set of cards – the choice is up to each person coming, but all of the items will be made using the brilliant Retro Fresh suite of products and colours. Here's a sneak peek of the album cover for those who couldn't get to Make It.
Then I've been asked to do a Private Class for the Flower Card in a Box or Pop Up Card that was also on display, I have a party, a wedding design session, and another Simply Stylish class all before the end of the month! Yes I'm busy, but it's all about getting in before the end of Sale-a-bration so you can make the most of the great products on offer for FREE with any order over £45. A lot of people have been making good use of their spending and so far the most popular has been the Banner Blast Stampset and matching Punch, with the Decorative Dots Embossing Folder close behind!
Don't forget you can come to my Celebrate Sale-a-bration party if you:
Join my team
Spend cumulatively £150
Host a party that spends over £150
Provided it's all done during Sale-a-bration you can get your free invite to come along & play – no charge, it's my way of saying THANK YOU.
In the meantime, I thought I'd share how to make a gatefold card.
It's really just a piece of card stock your normal size for a card, but instead of scoring in the middle, you score 1 third in from each side, so you get the gatefold shape.
For example this invite is cut as follows, Whisper White cardstock to 5 ½" X 8 ½". Score at 2 1/8″ from both ends, and fold in towards the middle. The panels of SAB Sweet Sorbet Designer Series Paper measure 1 7/8″ X 5 ¼". With a gatefold card the best effect comes when you have a piece of card that looks like it's attached to the middle, but really it's only glued on one side, so the card can open.
Here I used Flowers from Petal Parade with Pool Party ink over the piece of Whisper White cardstock without reinking so you get a softer second image, then I stamped another Flower in Crisp Cantaloupe in the middle. With a Vintage Faceted Button with a Glue Dot, and a bow with Crisp Cantaloupe Twine (from the SAB Sweet Sorbet Accessory Pack), it gave it a bit of bling! I then stamped a greeting from Make A Wish in Staz-on Black ink a really good stampset if you want to make any kind of invitations.
Add a Fringe of Pool Party to the bottom of the piece of Whisper White. Glue down to a piece of Crisp Cantaloupe and it looks fab – matching perfectly with the DSP.
Such fresh, bright colours – amazing! A huge thanks to Ronda who I CASE'd this one from, changing just a few items to things I have in my stash.
A lovely way to use a lot of the brilliant new SAB products, but some great basics in there too, if you buy the basics you can get either the DSP or the Stampset FREE:
Whisper White, Pool Party & Crisp Cantaloupe Cardstock
Fringe Scissors
Make a Wish stampset
So, until next time …. have a great week and I hope the weather stays as good as it's been this weekend!