Well hello peeps, today I'm saying thank you for Summer Fairs! I LOVE the summer months, and I love talking to people about how I can help them with their creative needs and their photo organisation! This weekend I've been at Holly Lodge School supporting them and having a stand for the children to make their Father's Day Card and share with their parents all the fab stuff you can get from Queen Pip Cards! I have another one hopefully coming up at the end of July too!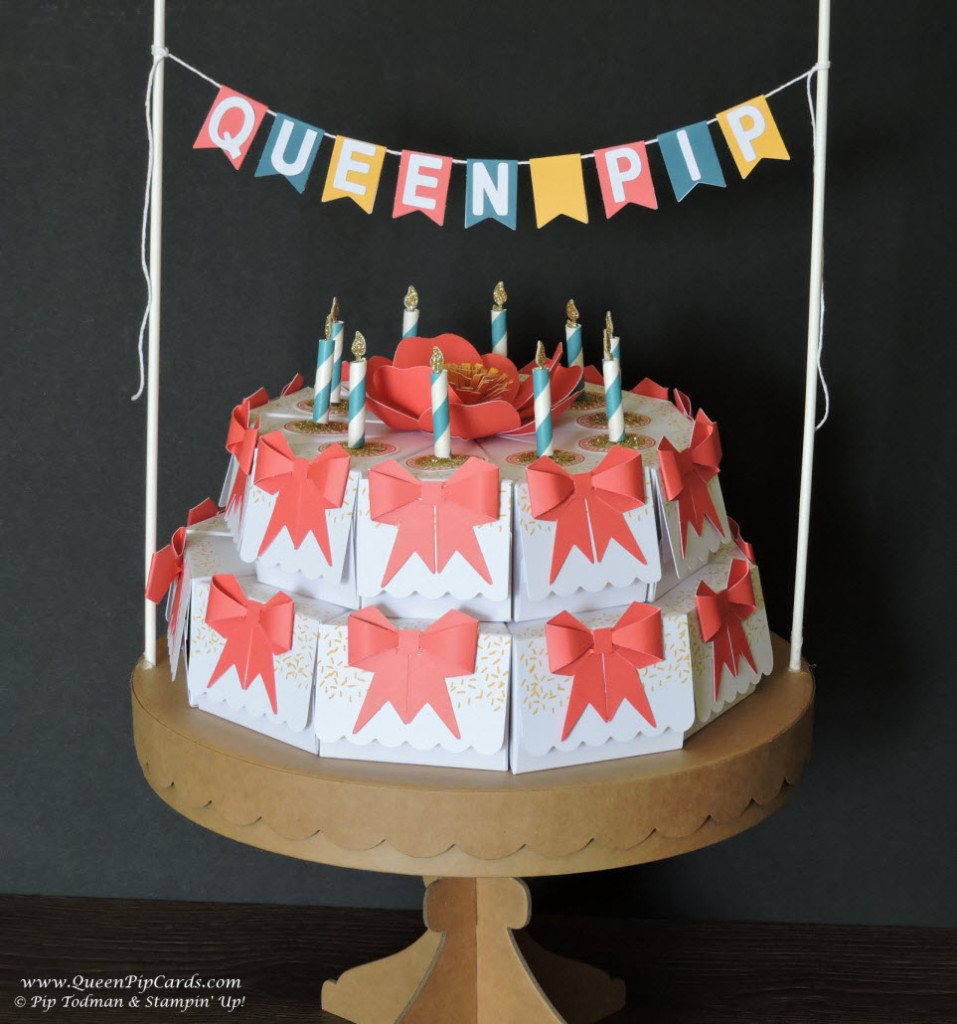 If you were reading last weeks post and watching on Facebook – I did finish my Sweet Stack cake – isn't it pretty? I changed it up a bit, I loved the fact you get 20 bows in the kit, so I managed to put one on both layers, and because you get 2 of each letters and loads of flags, I managed to make a banner that says Thank You on one side and Queen Pip on the other – cool eh?!?! Here's a close up of the topi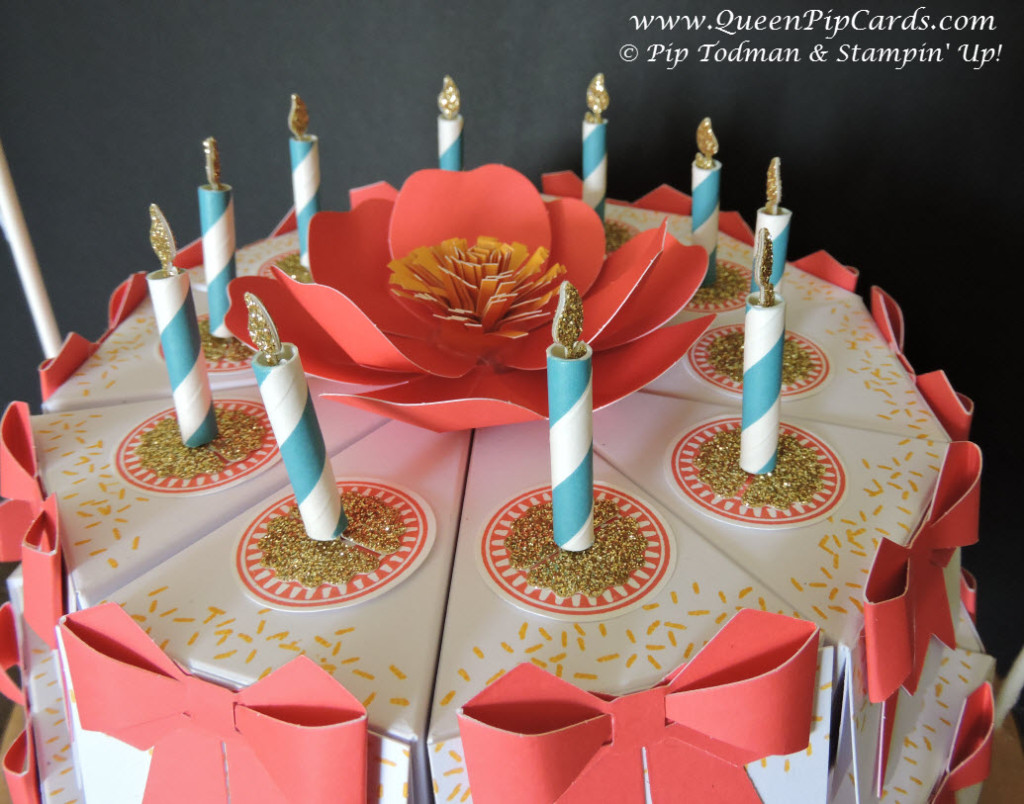 A lot of people loved the idea of this yesterday, which gave me a great chance to ask them what they would use it for and also what other great things they can purchase through me.  I also had a chance to talk about what I do and what I offer – which is actually quite a lot of things!
Classes
Home parties
Memory Morning sessions
Inspiration and instruction
Tutorials
Wedding / party designs
Demonstrations for clubs, crops, women's (and men's) groups
Team training and support for all Royal Stampers
Stampin' Up! products that you can't buy in the shops
In fact a lot of people didn't realise I did so much and had so many ways in which Queen Pip Cards can help them with their day to day lives as well as "crafting" – so if any of the above interest YOU – then contact me and let me help you too!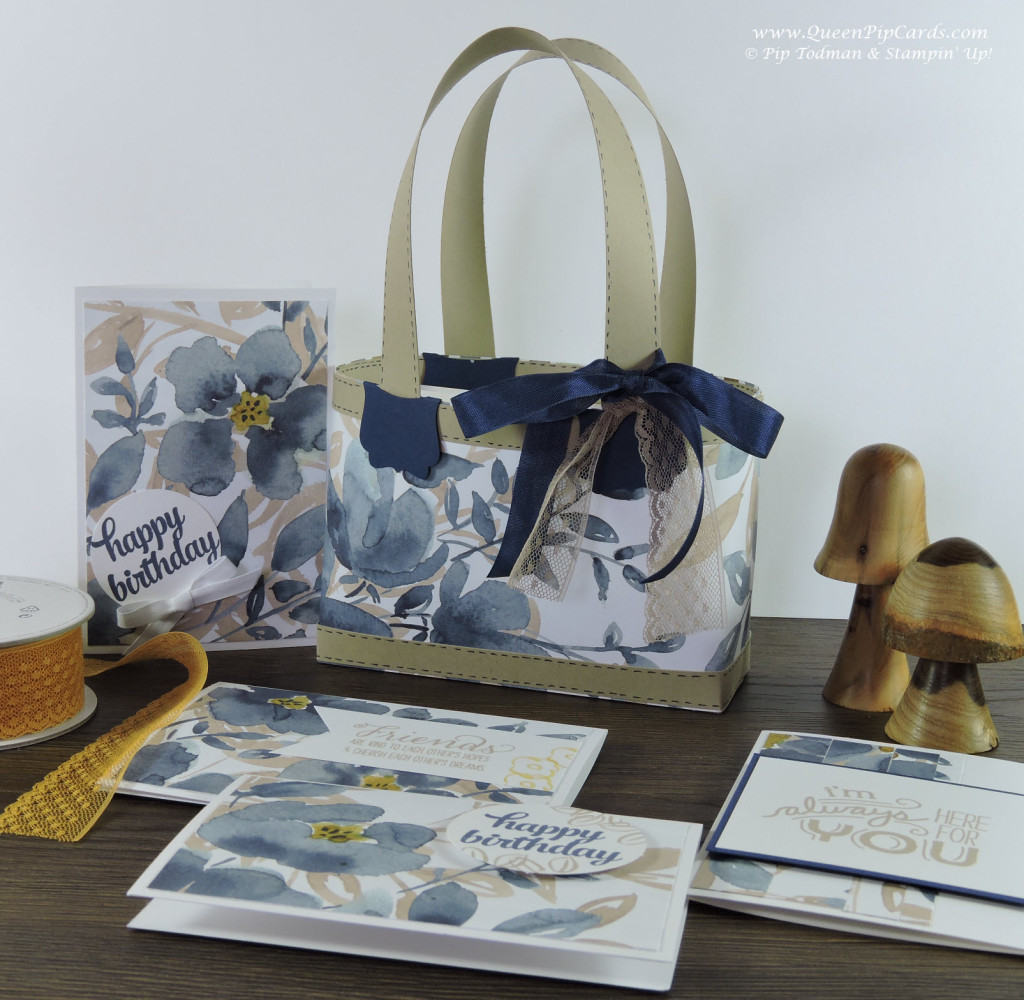 And for some crafting inspiration this week… here's another of the cute Bag of Cards that we'll be making at my July class (just £15) – this time I used the new English Garden Designer Series Paper, Night of Navy and Crumb Cake cardstock – isn't it beautiful – I love this paper design. If you would like to make a bag like this – click HERE and RSVP today! Payment needed in advance by PayPal – I'll send you all the details when you RSVP. Please note that today is the last day to choose your own DSP, if you RSVP tomorrow then I'll choose one for you from what I've ordered. They're all lovely though, so you won't be disappointed.
Before I go, I wanted to share that my "other" website – the one provided by Stampin' Up! has had a redesign – everything should work (although this last week there was an issue with the SHOP buttons) but things might not be in the same place as normal! I hope you like some of the new content, I think it's nice and fresh looking – but if you want to SHOP use the button HERE or on my menu, and I'd use the Classes link HERE or on my menu above because they go straight to where you want to be. Hope that makes sense, if you have any issues, please get in touch!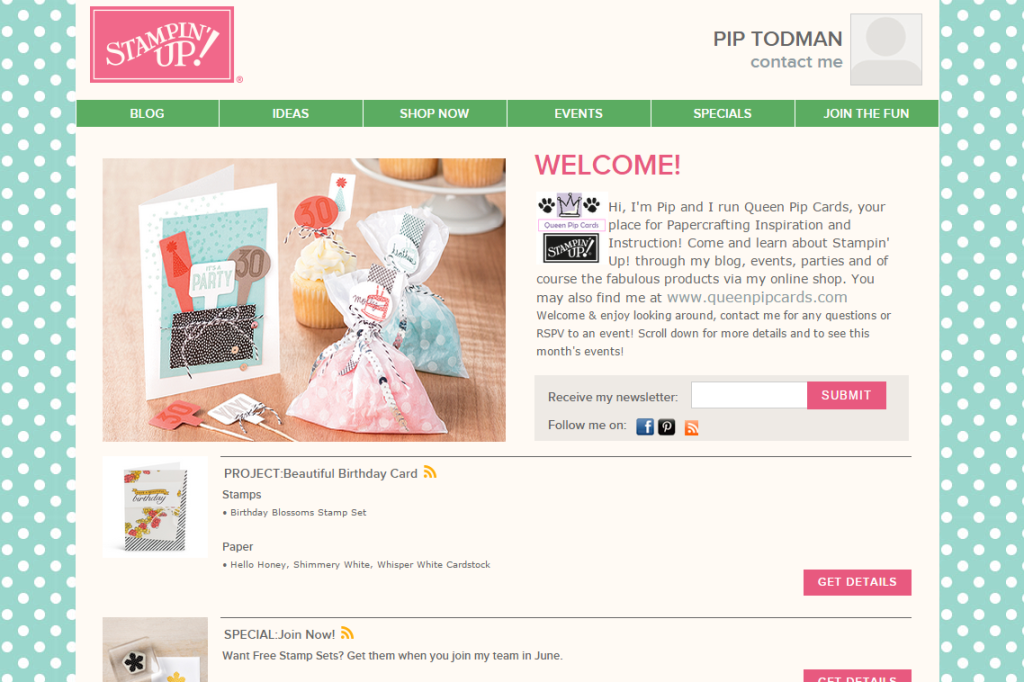 So, until next week, I hope any summer fairs you go to this week are as good as mine have been so far, today is the longest day already! Enjoy, have fun and I'll see you next Saturday when I'm doing another Creative Blog Hop (I know a month has gone by already!) so until then, happy crafting, thanks, Pip x