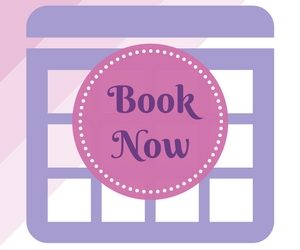 Welcome to my Classes & Events page. Here you will find a run down of my dates, types of classes, payment & pricing and all you need to know about the classes & events I run. Click on the Book Now image (right) and you will be taken to my month by month events Calendar where you can RSVP for specific class dates & see what's happening at a glance.
What Classes Do I Run?
Memories Made Easy:
Scrapbooking / Project Life for newbies, experienced scrapbookers and everyone in between. You have 3 options based on your memory keeping level. Held on Saturday afternoon's at St Mary's Church, Ash Vale.
Taster Session – I've never done this before I want to see what it's all about before I commit to anything – it's FREE – with a show & tell from me of the Stampin' Up! Photo Organising system that has revolutionised the way I keep my memories
Work with me Session – I will help you select a kit worth up to £20 and then work with you on your layouts and help you get going & keep going! Price is just £25 for the afternoon, your product kit and a 1 hour session with me!
I just need space Session – book a table and come and do your own thing – £7 for the table & refreshments.
7th January, 11th February , 11th March, 22nd April, 10th June, 1st July, 12th August, 9th September, 4th (TBC) November, 9th December.
Technique Classes
Take your hobby further and learn some new techniques or just enjoy the creative time. Your class fee includes product (stamps, tools, papers / cardstock etc) to help you master the technique or specific projects. The class is limited in size so you get more of me, your crafty guru, and include demonstrations of the technique plus hands on learning. Each class will vary in price depending on the products included but will be @£35 for the 3 hours. If the product is part of a bundle, then you can purchase the bundle at the discounted price via an Add On option. To Go Option is also possible in most cases if you can't make it to the actual class date!
Held on the 2nd Saturday of each month (with a few exceptions in 2017) from 2 – 5 pm you'll get refreshments included and full instructions to take home, some classes will also come with follow up video tutorials.
7th January, 11th February , 11th March, 10th June, 1st July, 12th August, 9th September, 4th (TBC) November, 9th December.
Simply Stylish
You will make 5 beautiful, stylish but simple cards and go home with them ready to send as envelopes are included in the price. There is o stress, no fuss, just a friendly welcoming atmosphere for you to enjoy. Refreshments are included and of course you also get me, your crafty coach, for any questions you have.
Held on the 4th Sunday & repeated the next day (Monday) of every month. It's £15 for the class fee and includes all your materials, you just bring your basic craft kit and adhesives. If you place a qualifying order at class you will get £12 of your class fee REFUNDED!!! It is a great class for a seasoned crafter or a new beginner as it's a relaxed, welcoming environment.
Retreats & Special Events
My Weekend Craft Retreats are pretty special, they will book up fast so get in quick. You can read all about them & register your interest by clicking HERE and reading my Retreat information page.
I also run several Special Events during the year.
22nd April 10 am – 12 pm Invitation ONLY Celebrate Sale-a-bration Event
22nd April 12.30 pm – 5 pm Up, Up & Away Lunch & Spring Special 3D Project class – Book HERE.
Christmas Stamp-a-stack (TBC)
Christmas Customer Event (TBC)
What's Team Training / Royal Stampers Group Fun?
These are events for members of my Stampin' Up! team the Royal Stampers & our affiliated local group Twinklets. You can read more about joining my team & the Stampin' Up! fun HERE. You can also see Stampin' Up! Events listed on my calendar, these are for active demonstrators only. I'd love you to join us one day – read more about Joining the Fun HERE.