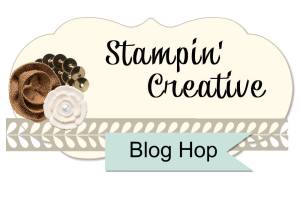 Hello everyone! Welcome to the Stampin' Creative Blog Hop celebrating the new Autumn and Winter catalogue with a sneak peek review! If you've joined me here from Kim's blog isn't she just amazing – I love her designs!
Each of us in the hop has taken one of the new Stamp sets available from 1st September and designed a project to show them off for you as a sneak peek of this years catalogue. I chose to use Cozy Christmas as it's one that drew me immediately when I spotted it in the catalogue (as a demo I get to see and order items before everyone else – it's a great benefit that I really enjoy using – if you'd like this benefit you can join my team HERE now and you'll get a sneak peek of the next Catalogue for Spring!). Cozy Christmas contains 8 rubber stamps with some great images and sentiments, all harking back to Christmas from long ago – the entire suite of products (stamps, Designer Series Paper, embellishments) was designed with a fifties / almost Disney look – something I really love.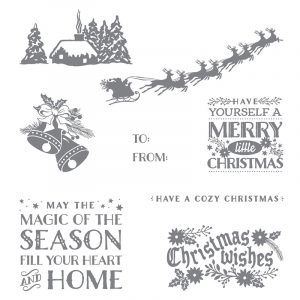 I wanted to design a project using these gorgeous images the moment I saw them – and I wanted it to be a project that would be easy for anyone to replicate. So here it is and below you'll find the full instructions so you can make your own!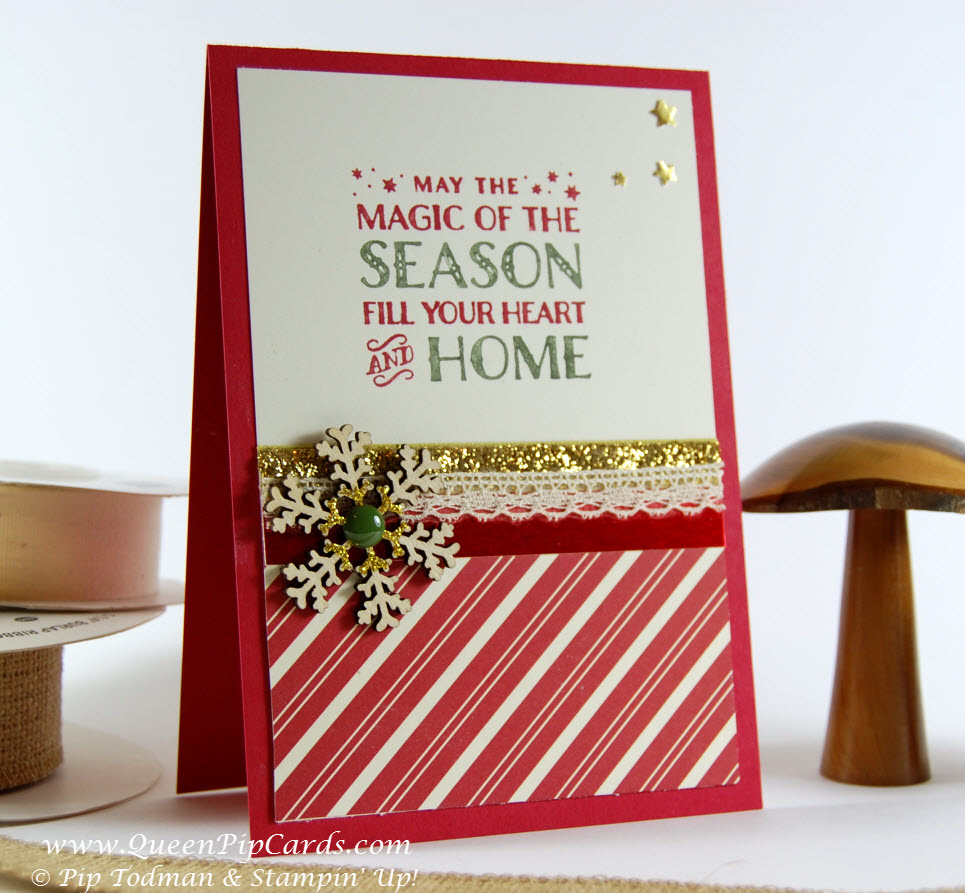 The instructions to make this card are easy:
Cut a piece of A4 Real Red in half & fold to make your A6 card base (I did mine vertically cutting it at 10.5cm)
Cut a piece of Very Vanilla card stock 13.9cm x 9.5cm
Cut a piece of the Home for Christmas Designer Series Paper 9.5cm x 6cm
Cut a strip of Red Foil 1.5cm by 9.5cm
Cut a piece of Gold Glitter Ribbon 9.5cm in length
Cut a piece of Venetian Crochet Trim 9.5cm in length
Ink up the sentiment using Mossy Meadow and Real Red Stampin' Write Markers & stamp on the top half of your piece of Very Vanilla
Layer the Designer Series Paper onto the Very Vanilla at the bottom, then glue down the Red Foil, Gold Glitter and Venetian Crochet Trim.
Glue it down to your card base at this point
Punch a few Gold Foil stars using the Confetti Stars Border Punch and glue top right of the sentiment
Use Gold Glitz Dazzling Details on one of the larger Snowflake Elements just around the centre. Add a Mossy Meadow Home for Christmas Enamel Dot and adhere the snowflake with Crystal Effects – allow to dry overnight!
A beautiful card which you can make multiples of easily! Some tips I would share on putting this together – use Tear & Tape or Fast Fuse to adhere the ribbons, the Gold Glitter Ribbon will shed a little – so be prepared, Crystal Effects is the best glue to use other than a hot glue gun for the wooden elements – it's worth taking the time to make sure it doesn't fall off!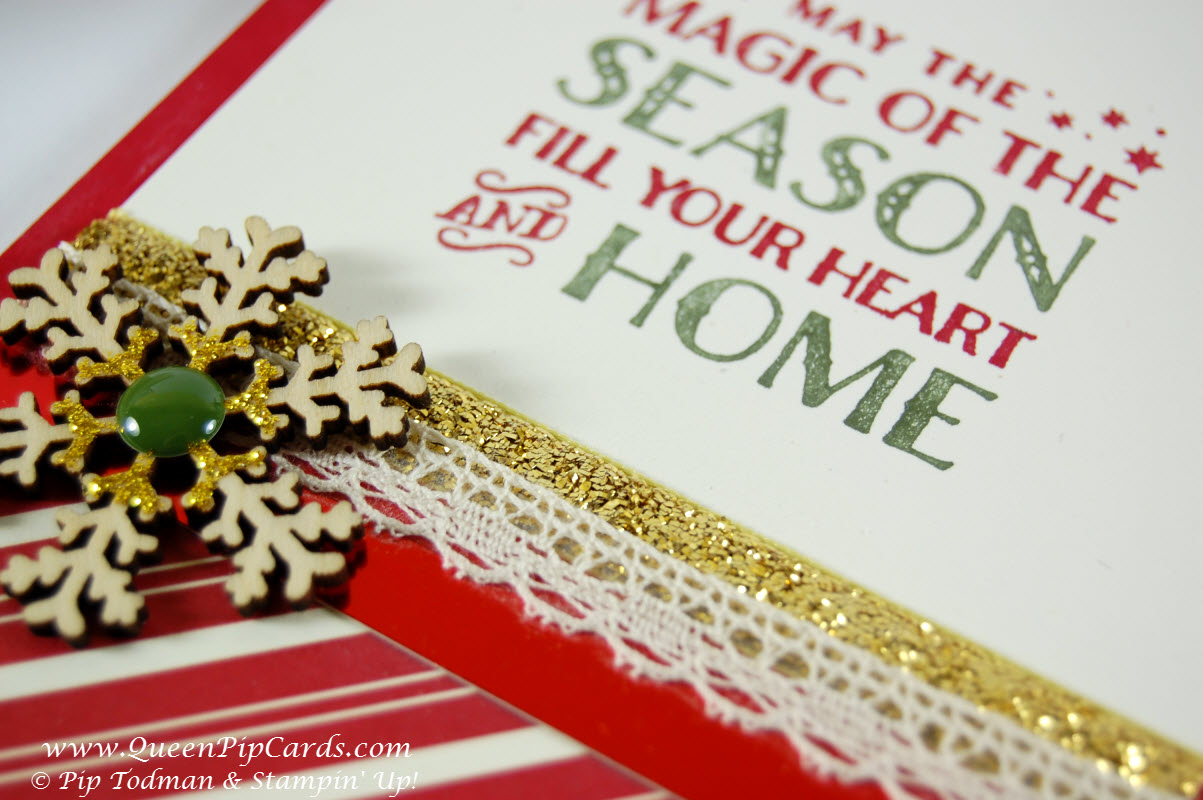 The close up really shows the little extra bits like the Gold Glitz which just adds that Christmas sparkle to the snowflake to match the ribbon. Do you see all those amazing NEW items on this card – I couldn't resist adding all of them – but they all work so well together, so why not!
This card uses one of the more simple styles from the Home for Christmas Designer Series Paper – so here's a little sneak peek at the rest of the pages you get in the pack! Love them!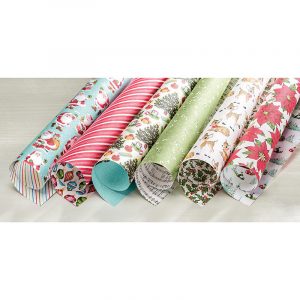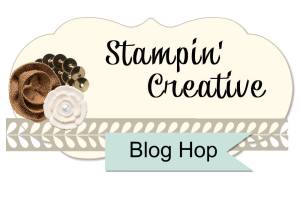 Well, that's my sneak peek project – I hope you liked it? If so please leave a comment below. Enjoy hopping around my fellow Stampin' Creative bloggers, they have some delights in store for you I know. Next up is Louise and a full list is below. Click on the link or image to hop. Remember you can't purchase these items from anyone yet, but in the meantime why not start a wishlist of those things you really like as you hop around – then you can pop back & shop on the 1st September!
I'll be back tomorrow with my regular slot of creative inspiration and instruction, with some MORE new items but until then why not check out this weeks Weekly Deals and new Clearance Rack items while you're enjoying the Bank Holiday weekend – enjoy and have fun for those who get the extra day off! Thanks, Pip
Eimear
Emma
Emily
Mikaela
Kim
Pip – you're here!
Louise